A daring, debauched, and (at times) otherworldly comedy, which was a 2022 Finalist for the Ambassador Theatre Group's Playwright's Prize, the cast includes:
Peter Kendall
Jed Peterson
Bridget Ann White
Bimini Wright

There are evenings that get out of hand…and then there's Bringer of Doom. With a surprise visit from her estranged, despised mother and her mother's young lover on tap, Lotte enlists an alcoholic ex-stand-up comedian, Demetrius, to brutally "roast" the maligned pair at dinner. As the night ensues, however, even darker ulterior motives come to light, and events take a madcap, morbid turn that nobody saw coming.
"Bringer of Doom is a comedy about family, relationships, and existential dilemmas," said director Mark Koenig. "It will take its audience to an unexpected, satisfying place – laughing all the while – and make you ask yourself, 'When is it okay to be okay?'"




Joe Thristino (playwright) is a writer based in Brooklyn. This is his debut off-Broadway play. Joe has written scripts of all kinds, fiction, children's tales, more ad copy than he'd like to admit, and one time a puppet show. He is a staff writer for cultural mag Tawk of New Yawk (@tawkofnewyawk) and his fiction has appeared in Writer's Digest and Prometheus Dreaming. Joe has been a shortlisted finalist for The Ambassador Theater Group's Playwrights Prize and at The Tennessee Williams Play Festival. He is a co-founder of Skimble Skamble Productions.



Mark Koenig (director) is a NYC creative that currently serves as artistic director of Our Bar (@ourbarnyc), a site-specific theater company that has produced monthly original theatre since 2009. As a director, Mark has helped devise and produce five full-length original plays. His work has been heralded by both The Wall Street Journal (Shhhh, 2011 – Garden Theatre, Winter Garden, FL) and director/producer Paul Feig (Silent Scenes from Quarantine, 2020 – Powderkeg Media's Shut-In Shorts).




David Lanson (assistant director/ producer) is a New York City-based actor, performer and tour guide. A graduate of the American Academy of Dramatic Arts, David has worked alongside various theatrical companies, such as the downtown theatre group the Amoralists and Our Bar (@ourbarnyc), and he splits his time between those on-stage endeavors in and around NYC with commercial and film work. As an avid amateur historian, David also runs and operates his own tour guide company, Detours with Dave. He is a co-founder of Skimble Skamble Productions.


MEET THE CAST


Peter Kendall is a New York City based actor ranging from stage to screen. He grew up across the Hudson in Wayne, New Jersey, and attended Montclair State University, receiving his BFA in acting in 2012. Since graduating, Peter has worked in theatrical productions across the country including Mamma Mia!, Vanya and Sonia and Masha and Spike, Dracula, The Ghost Train, Paddington Gets in a Jam, and on Norwegian Cruise Lines. Film/television credits include "The Girls on the Bus (HBO), "Julius Caesar," "Hotbed of Hate," "True Crime with Aphrodite Jones," and "Mysteries at the Museum."




Jed Peterson was born and raised in New York City, and is one of only a few Americans to have appeared on the main stage of the Moscow Art Theatre, with the Russian company. Other stage work includes playing Rudolf Nureyev in the world premiere of Nureyev's Eyes by David Rush (American Stage) and two subsequent productions (Delaware Theatre Company and Blue Barn Theatre). He originated the roles of Harry "the Hat" in the national tour of CHEERS: Live On Stage and Stephen Foster in Hard Times: An American Musical (The Cell Theatre). Other theatre credits include Jack Worthing and Gwendolyn Fairfax in The Importance Of Being Earnest (NY Classical Theatre); Ever Montgomery in Dancing Lessons (Public Theatre, ME); Zorro in Zorro! (East Lynne Theatre); Sherlock Holmes in Sherlock Holmes: The Final Adventure (Tent Theatre); King Lear; Taming of the Shrew; Fiddler on the Roof; Candida; Hamlet; Room Service (Utah Shakespeare Festival).Television appearances include: "The Blacklist," "Madam Secretary," "Elementary." Training: Moscow Art Theatre School (First American Ensemble), Princeton University, LaGuardia High School of Performing Arts, School of American Ballet.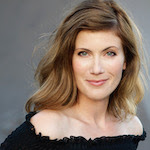 Bridget Ann White – Stage roles include Jack in Resolution (EST West), Mrs. Pearce in Confusions (The Lost Studio, L.A.), Kari in The Pavilion (the Berkshires), Sonia in Life x's 3 (Rep Theatre of St. Louis), Lottie Burke in Good Morning, Bill (The Keen Company, Off Broadway), Cora in The Will Rogers Follies (Broadway), the title role in A.R. Gurney's Sylvia (StageWest), Gretchen in Crossing the Double White Line (Jewish Rep). She was a company member of Circle X Theatre in Los Angeles, working on many productions including originating the role of Elizabeth Nietche in the west coast premiere of Schadenfreude. Feature Film credits include: "A Philly Christmas," "Out and About," "Fair Market Value," "Evan Almighty," "5 Dollars a Day," and more. TV appearances include: "Elementary," "Person of Interest," "CSI," "Medium," "Supernatural," "Gilmore Girls," "Deep Space 9," and more. Soap Operas: "Another World," "One Life to Live" and "Young and the Restless."




Bimini Wright is a Brooklyn-based actor, writer, and burlesque performer who grew up in the tropical rainforests of Cairns, Australia. Between high school and college, she hosted the adventure-travel show, Adventures in the Pacific, filming 13 episodes across Hawaii, Costa Rica, Ecuador, and the Great Barrier Reef. She attended Stetson University, where she received a double degree in Russian Studies and Theatre Arts before moving to NYC and studying the Meisner technique with Bill and Suzanne Esper at the William Esper Studio. Favorite stage roles include Sara in Stop Kiss, Brooke in Noises Off, and Louise in The Underpants. A long-time contributing performer and writer for Our Bar Theater, Bimini is also a core member of the Hotsy Totsy Burlesque troupe.
http://www.bringerofdoomtheplay.com/